 Products
Plastic molding series--Frame type three-axis servo robot
Large servo motor drive,frame structure,to meet the high load and high accuracy of Application requirements.
---
Plastic molding series--Frame type three-axis servo robot
Large servo motor drive,frame structure,to meet the high load and high accuracy of Application requirements.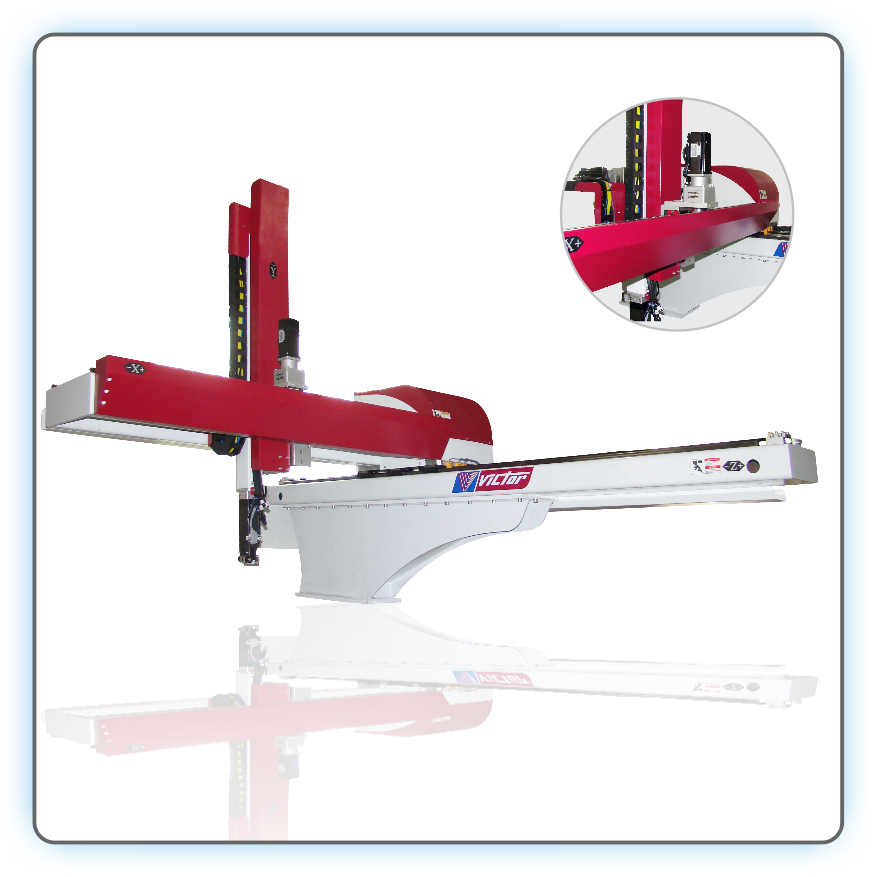 -Each axis is driven by servo motor.
-Arm times velocity structure design,to realize the high speed running.
-Lightweight extruded aluminum frame type,to reduce the weight of the moving parts,
-and achieve the best plus /minus velocity.
-High-performance servo drive and all axis linear slide rail realized high speed movement ,
-and the shortest pick-up time.
-This series can used to control the complex peripherals of I/O modules,facilitate stacking.
-sorting,insert and other additional functions.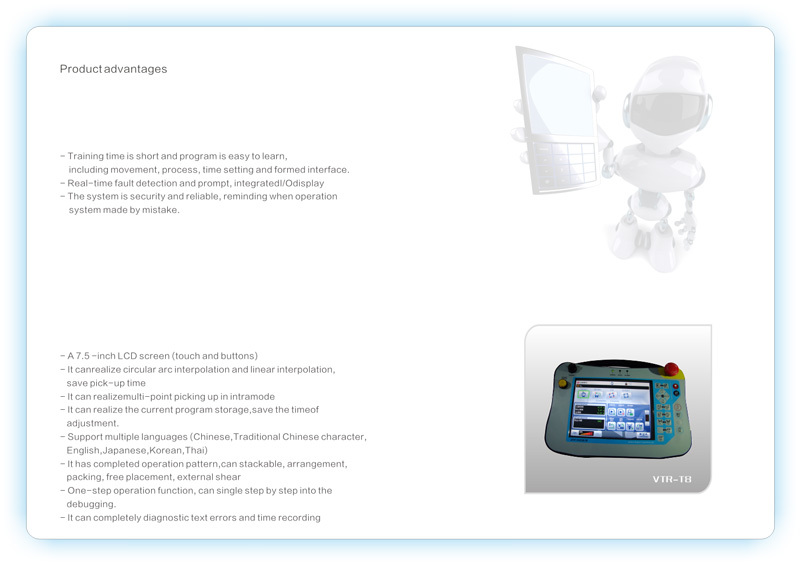 The Man-machine Interface
Product advantages
-Training time is short and program is easy to learn,including movement,process,time setting and formed interface.
-Real-time fault detection and prompt, integrated I/O display
-The system is security and reliable, reminding when operation system made by mistake.
-A7.5-inch LCD screen(touch and buttons)
-It canrealize circular arc interpolation and linear interpolation,save pick-up time
-It can realizemulti-point picking up in intramode
-It can realize the current program storage,save the time of adjustment.
-Support multiple languages (Chinese,Traditional Chinese character,English,Japanese,Korean,Thai)
-it has completed operation pattern,can stackable,arrangement,packing,free placement,external shear
-One-step operation function,can single step by step into the debugging.
-It can completely diagnostic text errors and time recording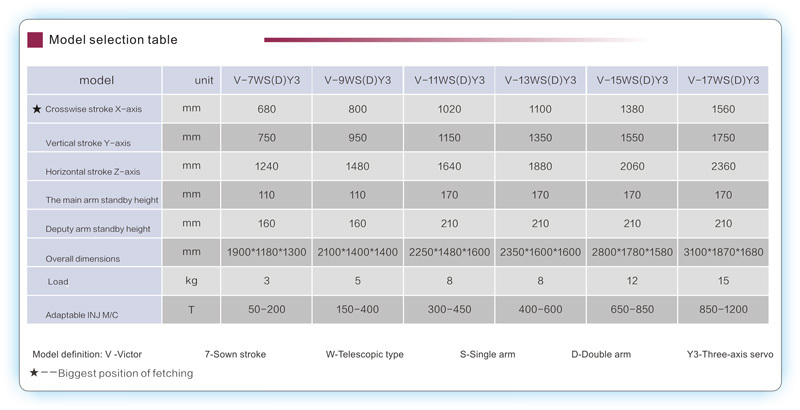 The full-servo high-end intelligent manipulator of the Victor VH series adopts the bus communication control system, which has fast response, accurate positioning and strong anti-interference ability. It can connect to the Internet and mobile client through the Ethernet interface to realize remote operation. Monitoring, programming and other human-computer interactions make it easier to do more complex work. The system is not equipped with a variety of IO interfaces, which can expand the control functions of upstream and downstream auxiliary equipment such as visual IML and CCD, and realize automatic feeding, in-mold insert embedding, in-mold labeling, product pick-up, stacking and packing, and cutting nozzle. A series of fully automated unmanned operations such as power-on detection, helping customers save labor costs, save production space, reduce environmental and human hazards, improve production efficiency, and maximize their potential in the rubber and plastics industry to achieve maximum efficiency. Economic benefits.
S.Z.Victor Automation Technology Co.,Ltd. specializes in R&D and manufacturing: large injection molding machine manipulator, high speed cnc manipulator, industrial robot, robot, robot, injection manipulator, high speed manipulator, CNC lathe manipulator, CNC manipulator, side manipulator, servo manipulator, large manipulator , fast food box injection manipulator, led manipulator, embedded manipulator, implant manipulator, die-casting manipulator, take-out manipulator, in-mold labeling manipulator, fuel injection manipulator, packaging manipulator, automatic production line, conveyor belt, assembly line, manipulator, non-standard automation equipment , control system. Injection molding machine manipulator, CNC manipulator, metal window manipulator, fuel injection robot, and custom-made non-standard automatic mechanical equipment