 News
"CHINAPLAS 2014 Chinaplas" detonated Shanghai on April 23
In 2014, although various industries benefited from the continuous recovery of the global economy, in recent years, rising wage costs, labor shortages, shortage of natural resources, high raw material prices, and social conflicts caused by environmental pollution have brought unprecedented new products to enterprises. challenge. In order to cope with the challenges, enterprises must first establish their own competitive advantages, adjust the corporate structure and upgrade and transformation, and move toward automation, efficiency, environmental protection, energy conservation and emission reduction.
As the No. 1 in Asia and the second largest in the world, the 28th China International Plastics and Rubber Industry Exhibition (hereinafter referred to as CHINAPLAS 2014) was grandly opened today (April 23) at the Shanghai New International Expo Center. More than 3,000 exhibitors from all over the world participated in this event to showcase the world's leading rubber and plastic technology, and create an international business and technology exchange platform for the manufacturing industry, which will bring new opportunities for enterprises to enhance their competitiveness. The four-day exhibition will be held until April 26 (this Saturday). More than 120,000 domestic and overseas audiences are expected to attend and purchase chemical raw materials and rubber and plastic machinery.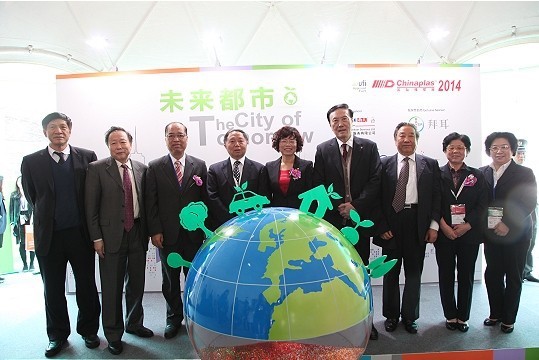 Leaders of China National Light Industry Council and China Plastics Processing Industry Association attended the 28th China International Plastics and Rubber Industry Exhibition
Re-creating the scale of the exhibition
This year's exhibition has a total area of ​​nearly 230,000 square meters, once again refreshing the previous record. Most of the more than 3,200 rubber and plastic machinery and equipment exhibited on the site have the functions of energy saving and emission reduction, high efficiency and automation, and the raw materials are sufficient to meet the market demand of different industries. The exhibition divided the exhibits into 11 major thematic areas, including: injection molding machinery area, film technology area, extrusion machinery area, chemical and raw material area, auxiliary equipment and test equipment area, mold and processing equipment area, rubber machinery and equipment area, China Export machinery and raw materials hall, bio-plastics area, plastic packaging and blow molding machinery area, and semi-finished products area. In order to facilitate the audience to search for products in a large exhibition, the conference will subdivide similar products in some special areas. For example: In the chemical and raw materials area, pigments and masterbatches will be concentrated in Hall C10, while additives will be on display in Hall C11.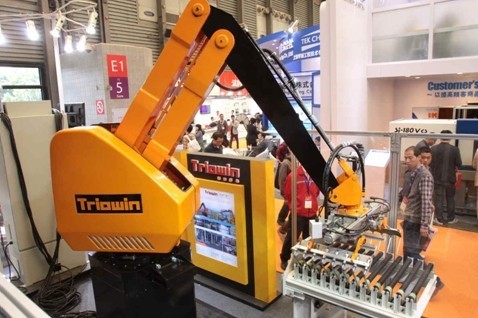 More than 3,000 well-known companies showcase advanced industry equipment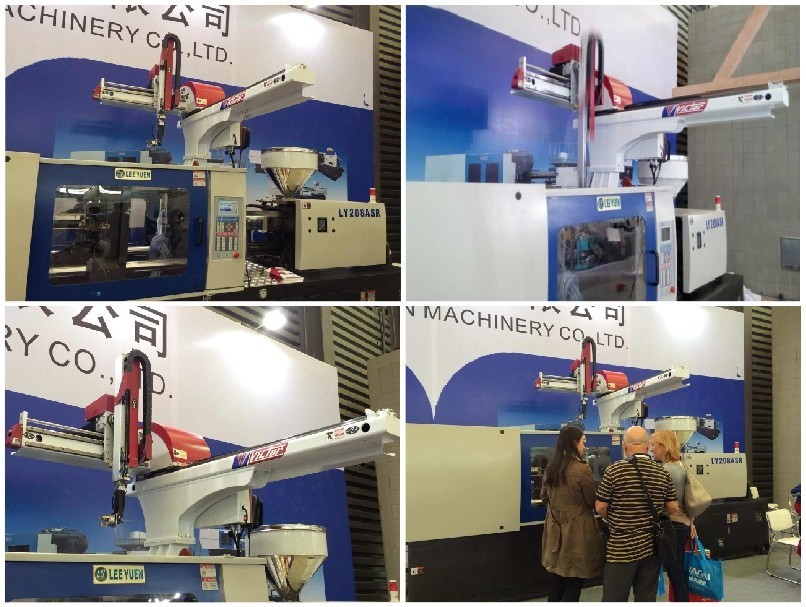 The victor high-speed robot is widely watched by industry professionals and customers.
In addition, the exhibition was supported by 14 national and regional organizations, including Austria, Canada, China, France, Germany, Hong Kong, Italy, Japan, Korea, Switzerland, Taiwan, Turkey, the United Kingdom and the United States, including Switzerland and South Korea. After the debut in Shanghai, the internationalization of the exhibition has been further improved.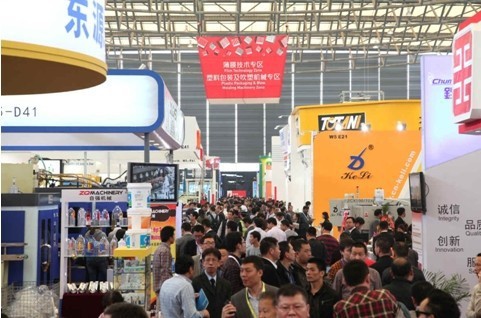 The four-day "CHINAPLAS 2014  is expected to attract more than 120,000 Chinese and foreign professional buyers.
Cater to market trends and develop industry vision
CHINAPLAS has always been regarded as an indicator of the new trend in the rubber and plastics industry. Many exhibitors released the latest technology and products at the exhibition. Visitors can take advantage of new technologies in equipment and materials technology in the industry, such as 3D molding, micro-forming, high-performance recycling, long-fiber reinforced composite molding and other new technologies. Among them, the injection molding machine production giant WITTMANN BATTENFEOL took the MicroPower micro injection molding machine. With a minimum injection capacity of 0.001 grams, this series of equipment is used to produce high precision micro-parts in nanometer and micrometer scales. EREMA Austria introduces the INTRAREA TVEplus recycling system at the show, which uses the new Counter Current technology to produce high-quality one-step waste plastics such as full-area and multi-layer printing, heavily polluted or very wet films. Regenerated pellets. In the field of chemical raw materials, high temperature materials, long fiber reinforced materials, building insulation materials, degradable plastics and high performance biomaterials will become new trends. NatureWorks exhibits a range of biopolymers made from its Ingeo range of resins, made from 100% renewable plant resources, and cost and function comparable to plastic and fiber products made from petrochemical feedstocks. 
2014 Chinaplas, grand opening in Shanghai. Audiences from all over the world flocked to the frontiers of rubber and plastics in various industries to enhance their competitiveness.
Wonderful concurrent activities for sustainable development
While demonstrating advanced product technologies and solutions, the organizers also provide more intimate services and activities for exhibitors and visitors, and strive to create an industry event that integrates green, innovation, environmental protection, energy conservation and sustainable development. In order to promote the sustainable development of the rubber and plastics industry, the conference held the theme of "Green Plastic Innovation • Building Eternity" and held two concurrent events at the exhibition: "Future City" and "Green Forum". Located in the central square of the Expo Center, "Future City" is an open hemisphere display area that will showcase sustainability models of the manufacturing cycle, covering "environmental raw materials", "energy efficient equipment", "green solutions and products". 4 levels of "renewable energy" and "recycling". Visitors can explore the latest green technologies and trends in the rubber industry by taking a look at the exhibition hall and watching and touching a variety of ingenious exhibits. Bayer MaterialScience exhibited a variety of products such as electric vehicle charging stations, solar panels, ecological window frames, notebook cases, and soccer balls made with its polymer products. It can be seen that new plastic technologies have penetrated into every aspect of daily life. , making a great contribution to sustainable development. In addition, companies such as Arburg, W&H, Matsui Machinery, and Zhuo Xi will also demonstrate their green manufacturing technologies, including energy-efficient injection molding machines, extruders, auxiliary equipment and molding technology. As the problem of waste plastics becomes more serious, effective recycling and bioplastics applications have also become the industry's goal. During the exhibition, the best examples in Europe and America and the application of bio-plastics will be presented one by one.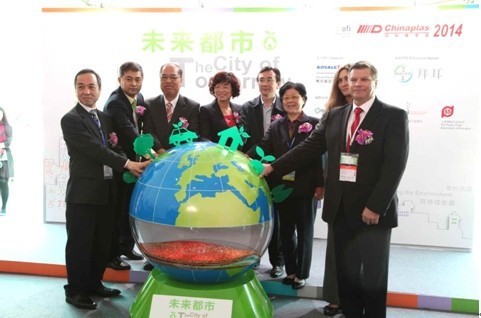 The launching ceremony of "Future City" opens a new page for sustainable development
The "Green Forum" agenda is divided into two half-days, which are held on April 24-25.
In response to the theme of the conference, this forward-looking forum will feature "innovative solutions for plastic recycling" and "green molding - halving costs and doubling profits". Topics will cover green molding, 3D printing, plastic recycling, and a variety of hot topics in the industry to address the profitability of discarded plastic products. Well-known speakers from Austria, China, Germany, Italy, Japan, the United States, and Taiwan will share their valuable experiences and insights. Concurrent seminars help the industry capture market dynamics In addition to viewing exhibits, visitors can also learn about the latest trends in the plastics and rubber industry by attending technical exchanges. More than 70 technical exchanges will be held in the same period. The theme covers rubber and plastic new materials and mechanical equipment. How plastic rubber is used in auto parts, packaging, wire and cable, film, medical and other fields to provide effective communication channels for audiences in various industries. And prepare for the enterprise upgrade and transformation.
As more and more Chinese companies are seeking opportunities to enter other Asian markets, the conference will host a seminar entitled "Explore the Gateway to the ASEAN Market" on April 26 to introduce participants to the ASEAN market business environment. , investment information and the challenges and opportunities facing the ASEAN market. The conference will invite representatives of the ASEAN Plastics Industry Federation and overseas experts to exchange experiences.
The show responded enthusiastically. Global buyers flocked to it.
"CHINAPLAS" is loved by buyers and attracts professional buyers from all over the world to purchase cutting-edge technology and market information. The organizers expect that the overseas visitors of this exhibition will come from more than 130 countries and regions, accounting for 25% of the total audience, and invited more than 100 Chinese and foreign delegations. Among them, the buyers group organized by domestic associations and user companies are from plastic products, automobiles, construction, electronic information and electrical appliances, packaging and mold industries, including Midea, Gree, Foxconn, Changhong, Toshiba Information Machine, and Hemao Electronics. Components, Shuanghui Group Chemical Packaging, China Food Industry, Yimei Film, Foshan Plastic Technology, Minth Group, Hangzhou Chaoyang, Guangzhou Yichang, Shanghai Yingke, Jiangsu Huaxin, Shanghai Canaan, Hubei Dayang, Shanghai Saibo, Xiamen Construction Lin, Zhejiang Yuanyi, Yutong Auto, Yapu Auto Parts, Inoue Huaguang Auto Parts, Ningbo Shuanglin Auto Parts and many other leading enterprises. Overseas, visiting delegations from Brazil, Germany, Hong Kong, India, Indonesia, Iran, Jordan, South Korea, Malaysia, Nepal, the Philippines, Russia, Thailand, Turkey, Ukraine, Vietnam will continue to visit. Their participation will be Bring more business opportunities to exhibitors.