 News
"Smart Robot" to create the original innovative gameplay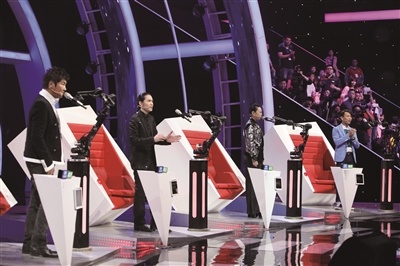 2014 "Best Harmony" will be the only TV show in the second quarter, which will be broadcast on Beijing Satellite TV. The program team not only invited Huang Yanshan, Sun Nan, Tao Shu, Xiao Jingteng to be the mentor of the four major singers, but also the singer Han Hong as the general director. Yesterday afternoon, this upgraded star lineup first attended the press conference collectively, and the "smart robot" specially developed by the program group attracted the audience's attention. Director Han Hong "played" the contestants and demonstrated the new gameplay of this future technology sense "weapon" with four instructors.
The "smart robot" is a new weapon developed by the program team in three months. At the beginning of the mentor's massive search for partners, once the instructor is moved by the songs of the students, they can summon the "smart robot" to send the microphone, and join the players' singing at the scene to make the players harmony. From the perspective of the scene effect, this design will create the first "mechanical smart hand" of the "improvisation" performance on the stage of the music draft, bringing the tutor from the mentor to the stage and transforming it into a part of the whole performance.
It is reported that the program group upgraded the slogan from "I and you sing" to "I want to sing with you" this year. It is precisely through a "thinking" word that highlights the equality, harmony and mutual respect between the tutor and the students. Instructor Tao Wei also said in an interview that he hopes to act as a "green leaf" and let talented young people get everyone's attention so that more new generations of singers can rise in the fierce market.
Yesterday, the general director Han Hong also broke the news at the press conference to give the nicknames to the instructors: "Huang Ma" because they have excellent players, they can't be their own. They are called "Yellow" because of Han Hong's play; Gao and he did not shoot, and was sealed "Tao does not shoot"; when Sun Nan heard the intoxication, the eyebrows often habitually put on the expression of "Chu", which is called "Sun Tai"; Xiao Jingteng often points The outside was entangled and cautious, so he missed many of the students who came for him. Han Hong could only help him to call him "Xiao is very painful" - I don't know how to watch the back of the players, Xiao Xiu is heartbroken to want "Again".